20th Scandinavian and Italian design
Pascal et Laurence SARFATI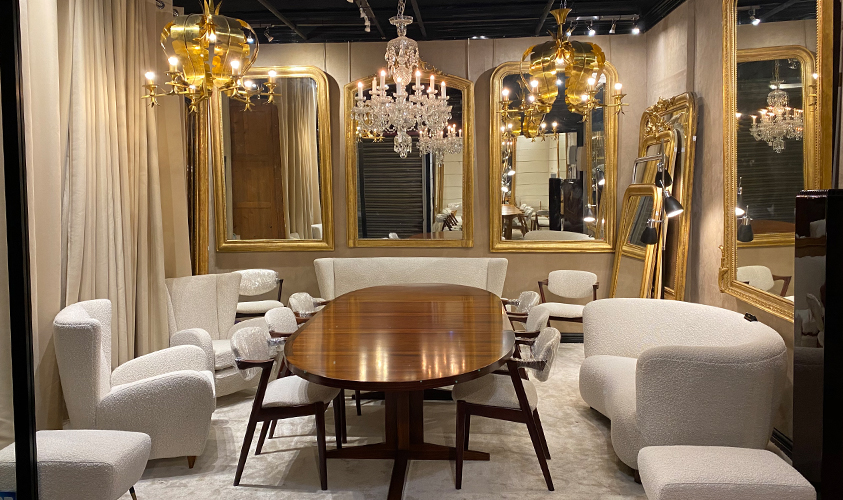 Forty years of experience in authenticity and harmony
It is hard to sum up 40 years of passion in just a few words. We consider our work as a search for authentic pieces, mixing Italian harmony and Scandinavian elegance. 
For more than ten years, we have offered a selection of antique pieces on Boulevard Saint Germain, in the heart of Carré Rive Gauche, specialized in 18th Italian art - Venetian, Florentine and Roman. 
Scandinavian design was our second love, with its unique pieces and pure lines. We focused more specifically on renowned designers such as Kai Kristiansen, who left his mark on 1960's Scandinavian design. 
Exceptional woods like rosewood, teak or oak tree, inspired us with a new energy and also provided our selection with high-quality products. It gave a new shape to our Italian offer, with pieces from well-known designers such as Paolo Buffa and Marco Zanuso. 
Mixing styles became our signature and know-how, which is always fed by new discoveries. 
We also offer a selection of Louis Philippe shaped mirrors with their original, beautiful gilding. 
We welcome you every weekend in Paul Bert Serpette market on Alley 2, stalls 5 and 6 or by appointment on weekdays. 
Every piece we have benefits from our artisans' experience and know-how which guarantees high-quality finish. We work with renowned cabinetmakers, upholsterers and varnishers who contribute to events such as PAD or Biennale which gather thorough professionals of our sector. The trust we have built with those artisans since Boulevard Saint Germain who value details as we do, allows us to ensure we provide you with perfectly restored pieces. For our chairs and sofas, we choose high-quality fabrics. 
We collaborate with decorators and interior designers whom we share love of high-end, Scandinavian pieces with, for their work with international and French customers, as well as with private buyers seeking to redecorate. 
We are pleased and proud to count on our customers' loyalty and trust. Do not hesitate to come see us on our stand, or to check our Instagram page to discover our latest finds. 
We hope to see you soon,
Pascal & Laurence Sarfati